Each gust of wind covered us in a cloud of rotten-egg gas. The landscape was stony and bare, except for paths of leafless shrubs. Grey water bubbled from steaming vents in the ground. Behind us Mt Fuji loomed large, covered in snow and cloud.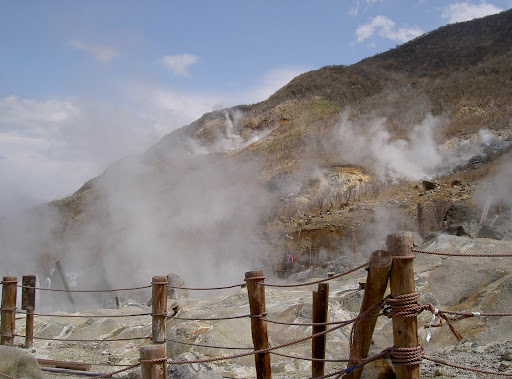 We were at Owakudani, a dormant volcano whose collapsed sides had exposed springs of steaming sulpherous water. Hirohide-san had kindly picked us up from Hakone-Yumoto station and driven us up into the mountains. Hot springs steamed out of the rock besides the road as we neared Owakudani, itself visible from afar by the white clouds coming directly from the mountainside. Yet we could also see patches of melting winter snows. It was the three phases of water at once!
Even more impressive was the sight of Mount Fuji. We were fortunate, for almost the entire mountain, including the summit, was visible. It is truly an awesome sight, looming large over the countryside with nothing else besides it to diminish its height.
We ate eggs boiled in the hot springs of Owakudani. The iron and sulphides in the water had reacted with the proteins to stain them black, but they tasted great.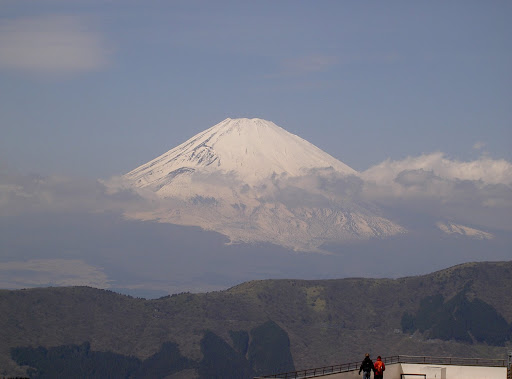 Our next stop was over and through the mountains to Gotemba, Hirohide's pretty home town. I had met Hirohide, or Hiro as he preferred to be called, while on my morning walk to work in 2005. Hiro is a researcher and lecturer at Numazu University, but was spending ten months in Australia as a visiting researcher at my workplace. He had kindly offered to take leave from work and show us around his local area.
Gotemba is also the home of major Japanese and US military bases and we passed helicopter gunships sitting on the tarmac and flying overhead. It seems an awful waste to place military baes in the area, for it has such spectacular views of Mt Fuji. Unfortunately, snow thwarted Hiro's attempt to drive us up to the base of the mountain, although the views of the winter landscape were worthwhile in themselves.
We ate a delicious lunch of tonkatsu (crumbed pork). I have never tasted pork so tender and sweet as this. We were given a mortar and pestle to grind roasted sunflower seeds, to which we added a sweet tonkatsu sauce. Great fun!
Steep and winding roads lead us to the area of Hakone that appears in all the photographs, the big caldera lake called Ashi. Motorised cruise boats disguised as paddle steamers or sailess men of war roam the lake with a cargo of tourists. Besides the lake near the town of Moto-Hakone is the famous red and black torii, others mark the entrance and exit to the town.
Part of the old Tokaido road between Edo (old Tokyo) and Kyoto lies besides the lake, marked by giant cedar pines. Under the Tokugawa Shogunate the wives and children of local nobles were kept at the capital of Edo and the nobles themselves were required to visit Edo every alternate year. The movements of weapons and soldiers was strictly controlled to prevent rebellion.
We visited a reproduction of one of the Imperial checkpoints along the road. Here, samurai and other officials monitored the movement of people along the Tokaido road, paying particular attention to the children and wives of nobles. The nearby museum, well worth a visit for the many artifacts on display, told the tale of a young girl who tried to return to her homeland to see her father and was executed by the soldiers at the checkpoint. Women who supported illegal travellers could be cast into slavery, the men tatooed for their crimes.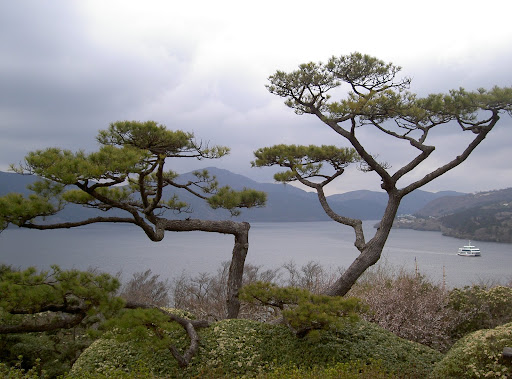 Nearby to the museum is a pretty park with great views of the lake and, if weather permits, Mt Fuji. By this time the clouds had closed in and the great volcanic mountain was no longer visible. But we
had
seen it and were more than satisfied.
Hiro drove us back to Hakone-Yumoto, which looks to be a lovely little town built in a mountain vallery around a burbling stream. It was wonderful to have a local guide and Hiro ensured that we saw many areas that may have been a bit troublesome to see otherwise. It's always fun to talk to someone who lives in the country you are visiting!
Our Odakyu "Romance Car" train took us all the way back to Shinjuku station in comfort. We wandered around neon Shinjuku, visiting the "youth" 0101City department store. The basement houses Diamante Jesus, a store for Barbie Doll wannabes, while from Level 4 upwards are clothes and shoes for the cuties, goths and punks that gather in Harajuku on Sundays.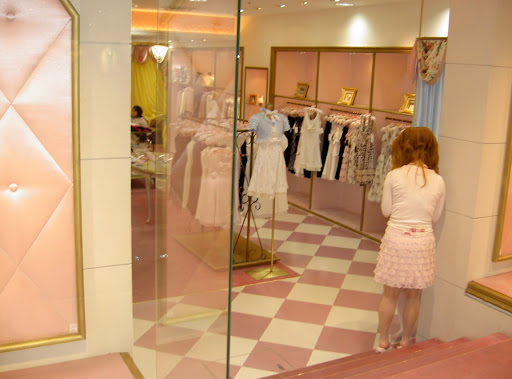 The Japanese make Australian fashions, in fact anywhere else in the world, look positively boring. If you tried to wear in Sydney what they do here the conservative locals would probably charge you with something. I'm going to miss the colour and craziness of the people and the cities when I return to Australia. I have to admit that it is not something I am looking forward to. It's nice to be able to walk the streets late at night and enjoy the zany atmosphere without worrying that some drunk or druggy is going to mug you. And its like this every night, not just for Thursday late night shopping!
I can't believe that this holiday is almost over. I don't want it to end. I just want to sit in this hotel room and gaze out over insane Shinjuku, then nip out for a quick but delicious sushi or soba and to walk amongst the cherry blossoms in the park.