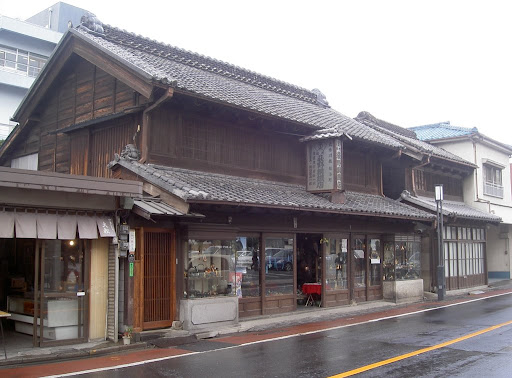 Imagine eighty people dragging a four tonne three storey wooden float down a street. On the float musicians are playing flutes and striking drums, while at the top a human sized doll watches over the proceedings. Now imagine twenty-nine of these floats parading past centuries old Japanese architecture through streets lined with tens of thousands of onlookers.
It would be spectacular to be in Kawagoe during the Autumn festival. But October is a long time away, so the town dubbed "Little Edo" was a lot quieter today. The black, grey and brown Edo-era tiled warehouses have been converted into shops selling a good range of souveniers, dried foods and sweets, many derived from the long purple skinned potatoes that seem to be the theme ingredient of the town.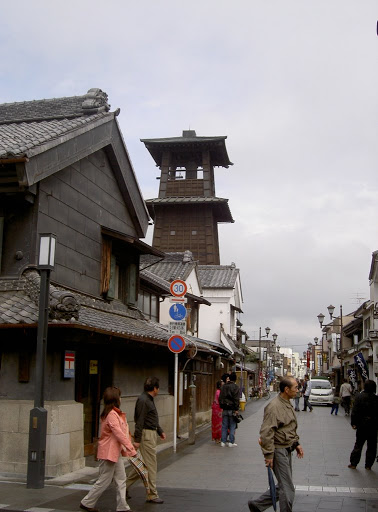 In lieu of the festival I visited the Kawagoe Festival Museum, where a couple of floats are displayed, along with audio-visual presentations. The old staff in the museum are eager to share their knowledge through the language barrier. It's surprisingly interesting.
We walked through the chilly rain to the Kitain Temple. We were starving by this stage, for we hd not eaten lunch and it was after three. For the second time a hanami matsuri (cherry blossom festival) came to our rescue. There were lamps and tents set up amongst the temple ground cherry trees. We ate yakitori (skewers) and yakisoba (fried noodles) under the tent.
The temple grounds are home to the Gohyaku-Rakan statues, 538 disciples of the Buddha carved from stone. Their postures and expressions are almost comical.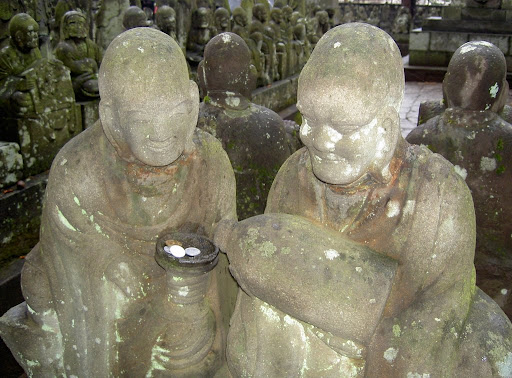 The train to and from Kawagoe left from right under our Shinjuku hotel. It was pleasant to get out of the city and pass through the suburbs, with their tiny manicured gardens and snapshots of daily Japanese life. One the way back a group of teenage girls dressed in exquisite kimonos boarded the train.
At Kawagoe station we saw a vending machine selling a Yakult drink called "Thorpedo" with Ian Thorpe's face plastered all over it. So does it contain any performance enhancing drugs?
I'm surprised the Kawagoe isn't mentioned in the Lonely Planet. The JNTO representative recommended it to us and we agree, it's a very interesting little town to visit and convenient too!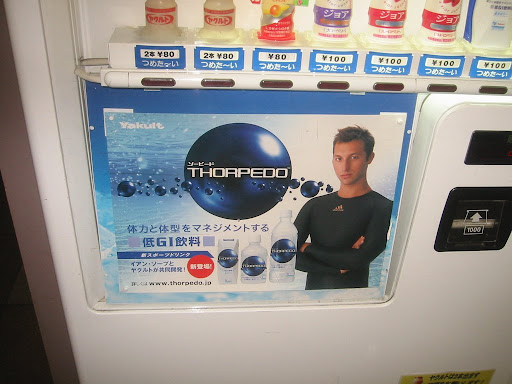 Back in Shinjuku, B had a hair cut while I bought up N-gauge model railway parts at Sakuraya. Amazing how cheap and how good the N-gauge stuff is in Japan. I'm looking to setup a miniature version of our rail trip to Takayama last year, as a reminder of our holidays.
More trains tomorrow, this time to Enoshima and Kamakura.