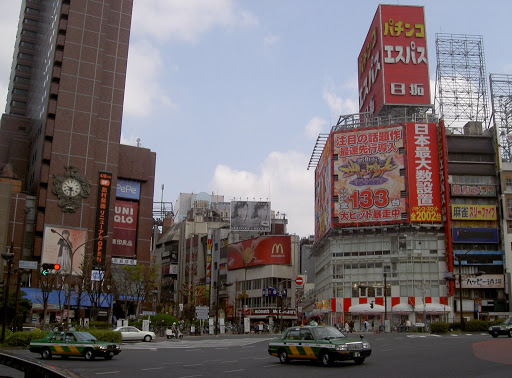 After one month travelling through China, Hong Kong and Japan on plane, train, cable car, trishaw and whatever else you can imagine we have finally made it home again. It is always nice to return to your own home, a place where everything is familiar.
Almost everything is familiar. Where once there was lawn now there was a jungle and the green waste bin wasn't large enough to hold all the clippings when I returned it to its former state.
Our final day in Tokyo started with me running around to find the Kinko's in West Shinjuku to print out our Cathay Pacific online check-in documents. We then checked out of the hotel and caught the subway to the Tsukiji fish markets to find more dried seafood.
I guess that the markets are closed on Sundays because there was only one dried seafood stall. The rest of the open shops were sushi restaurants for the tourists.
As usual we were running late and overloaded for the Narita Express. My backpack frame had broken, so I was forced to drag my 25 kilogram back along the ground. Judging by the black dust on bottom of the bag I was doing a service for Shinjuku in cleaning up the floor.
The flights back to Sydney were pretty fun, with only a few rough periods. The food was delicious and I had not seen the Little Britain Abroad episode on the IFE. The Cathay crew were very helpful, the air fresh enough for me. If only we had those lie flat first class bed maybe I could have had a good sleep on the plane.
Instead I saw the stars for the first time in a month, watched a meteor burn up in the atmosphere. Below the bright lamps of the shrimp and squid fleets were brighter than any stellar reflections. I knew when we were passing Taipei because the cloud cover below suddenly took on a glowing red tinge, like a hidden hell. Lightning flashed in the clouds over Indonesia, natures fireworks.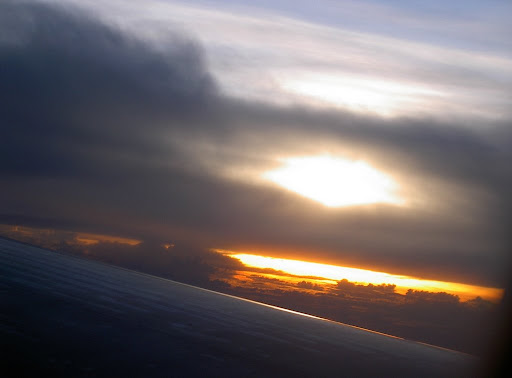 As we crossed into Australia I watched the sunrise beneath the clouds, turning the cloudscape into a desert scene. Then I felt the plane shake as we passed into the clouds themselves.
Unfortunately, my big bag did not appear on the luggage belt at Sydney Airport. I hope it has not disappeared into the hand of thieves because some of the contents are difficult to obtain in Australia. Plus my dirty laundry could be considered a weapon of mass destruction... oh, now it makes sense. I'll keep my eye out for people in sunglasses following me.
The holiday is over and it is back to work tomorrow. Now for sleep!