Ever since we spotted a picture of
this moving, singing toilet
in a book we've wanted to see it for ourselves. All I knew was that the Ten Chi toilet was in the Lemina Building located somewhere in Shijuku.
Our search began in West Shinjuku on the 26th floor of the
L
building. According to the Lonely Planet the Toto Super Space showroom was located here. Toto make those arse-warming-and-washing toilets used across Japan. I love them, our hotel room has one and it certainly saves on toilet paper.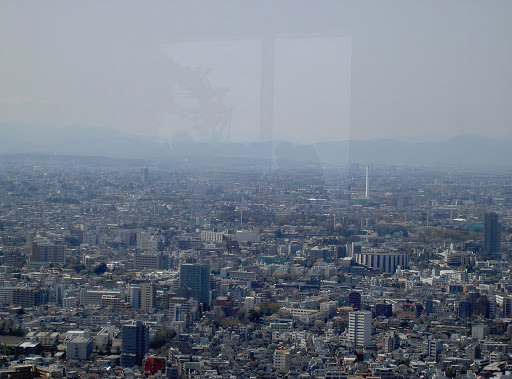 The showroom was a pretty staid bathroom fixtures display, the nearest working toilets nothing more exciting than your average Japanese loo.
The sky was as blue and as clear as it has been through all of our time in Asia, the chilly air invigorating (to me, B was just cold). What better opportunity to spot Mt Fuji from Tokyo? So we caught the lift up to the 45th floor of the Tokyo Metropolitan Government Tower 1.
I thought I spotted Mt Fuji, but it wasn't as obvious as with our trip up to Matsumoto last year. No matter, we'll be in the area tomorrow visiting Hakone. However, the views across Tokyo were fantastic. Most buildings in Tokyo are low to the ground due to the danger from Earthquakes. Shinjuku is a more stable geological location and there were a number of skyscrapers around us. Helipads and the railway tracks of the window cleaners' apparatus were visible on their roofs.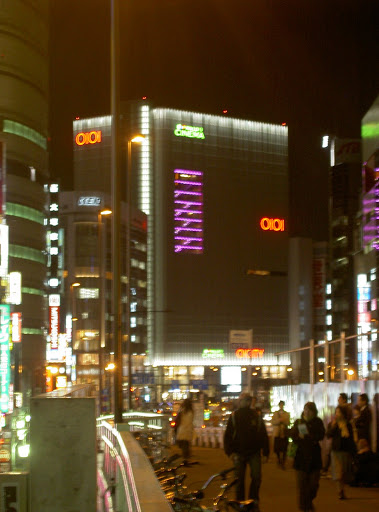 Crossing back over to East Shinjuku the remainder of the day was spent mainly on shopping, though we did search for the Lemina buidling out in front of the Mitsukoshi Department Store. Better luck next time! I didn't check my watch often enough and we missed out on going for a walk amongst the cherry blossoms in Shinjuku Park (last entry 4pm). Hopefuly we will get another chance on the weekend. I feel much more exhausted from the shopping than the sightseeing.
I really admire the quality and elegance of many Japanese goods. We visited a furniture store and most of the furniture looked simple, yet very classy. The food, both local and western is prepared and presented well. Their average bakery/patisserie item is as delicious as anything similar we ate in France. The fruits (I'm munching strawberries now) are top quality. Tonight's sushi was incredibly flavoursome.
One failing would have to be the television here. Such nice TV sets, such crap programs. Just saw the Japanese version of
Deal or No Deal
. No pissing or chilli eating contests at all! In fact I haven't seen a single one of those classic Japanese gameshows since we arrived. Do we just get back too late?
Whatever my complaints about Japanese television, they pale in comparison to what I think of CNN. So little news in so much time! No mention at all of the disaster in the Solomon Islands, yet endless "analysis" and updates about the British soldiers' return from Iran. They could show news from across the world, yet all they do is focus on US non-news, terrorism and the Middle East. Even Channel 10 news is more informative. If this is the type of news that Americans watch at home then it is no wonder that they seem so ignorant. It's a pity that there are no other English language channels here at the hotel.