We now know what we are doing for the rest of our time in China. I returned to the CITS headquarters before 9am and met Ms Joe to book our onwards itinerary. Over two hours later we had thrashed out a plan.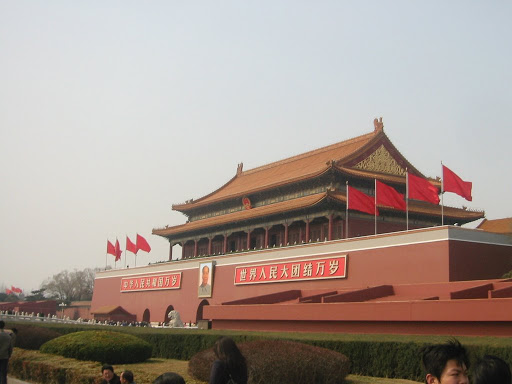 By this time B had come looking for me. Joe had to contact the various other agencies to book our travel and told us to return at in an hour. So we checked out of our hotel and grabbed some local "pancakes" from a small vendor. When we return Joe still had more to do, so we caught a taxi to our new hotel, the Novotel Xinqiao and dumped off our bags.
We then walked a kilometre and a half to Ti'ananmen Square. It was the final day of the Communist Party's Congress and the square was closed off by soldiers and security officers. So we continued walking up through the Gate of Heavenly Peace, Mao's visage gazing down upon us.
The Forbidden City was, to be blunt, a disappointment to us. A couple of the major palaces were hidden by scaffolding and sheets as they underwent a major renovation. This removed the feeling of grand history of the location.
The audio guide, now without Roger Moore and instead looking more like a Bond gadget with location lights on a map and wireless postion sensors, was a waste of money, suppling only a little more information than the signs. At least the crowds were not too bad. In fact, we had few problems with crowds at any of the sights in and around Beijing. Perhaps March is a good time to visit! Tomorrow will give some indication of the differences between weekday and weekend crowds.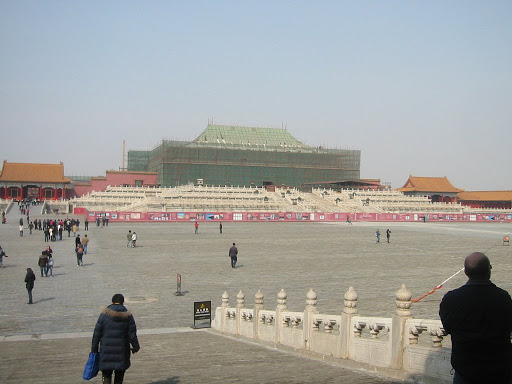 Exiting the Forbidden City from the rear, we returned to Wednesday's location opposite Jingshan Park. We took a different route back to the CITS building, walking past trendy little stores and through a hutong. We stopped off to buy some little dough and vegetable balls, hot snack food, from a small vendor.
I followed Joe out of the CITS shopfront and up into the main building. In order to make train, hotel and tour bookings the travel agents need to contact local branches of CITS, who in turn contact the hotels or buy train tickets in bulk. Thankfully the airline tickets are electronic now, but the rest of the system seems very inefficient.
I made the payment up in their offices, paying the 4% credit card surcharge, then we returned to the shopfront. Joe then required time to write up the itinerary for us and for the local agents. So we returned to the nearby restaurant where we ate the previous night, this time eating noodles and half a Peking Duck. Not as good as Quanjude, but still tasty.
Finally, by 8pm, our itinerary and tickets were finalised. Everyone else in the office was long gone. We presented Joe with a cake for her extraordinary efforts. She was so much more helpful than any other travel agent we have dealt with before. What is more, she was prepared to let us travel independently rather than pushing us on tours. We did choose a couple of local tours, but for these there was little choice anyway.
Though it did take up a big chunk of our day, I'm glad we booked the rest of the trip now. It would not have been fun to repeat the exercise continuously at each stop, not knowing if there were seats available (it did happen a number of times today).
Here goes:
Mar 17 - Fly Beijing to Xian
Mar 18 - Xian tour
Mar 19 - Fly Xian to Chengdu - drive to Leshan and the Big Buddha
Mar 20 - Chengdu, visiting the panda research centre
Mar 21 - Fly Chengdu to Yichang
Mar 22 - Hydrofoil up the Yangtze to Fengjie and return to Yichang
Mar 23 - Tour the dam, overnight train to Nanjing
Mar 24 - Explore Nanjing, overnight train to Huangshan (Yellow Mountain)

Mar 25 - Climb Huangshan, overnight on summit
Mar 26 - Overnight train to Shanghai
Mar 27 - Shanghai
Mar 28 - Shanghai, intend to visit Suzhou and canal town
Mar 29 - Fly Shanghai to Guilin
Mar 30 - River cruise to Yangshuo, fly to Shenzen
Mar 31 - Hong Kong
Apr 1 - Hong Kong to Tokyo

It's more rushed than perhaps is good, but there are rest stops built in. Anyway, it's done.
Took us an hour and a half to walk back to the Novotel Xinqiao, after getting a little lost and passing through the Oriental Plaza, a refuge for foreigners. I prefer the Novotel Peace Hotel, calmer atmosphere, but this is okay.
There has been a lot of electricity between B and I in Beijing and the sparks have been flying between us. Yep, the air is cold and very dry and there is a lot of static build up. At least the dry air means that clothes dry quickly. Over the previous two nights we have hand washed our clothes in the bath and hung them around the hotel room to dry.
I think that we will miss Beijing when we leave. It is a grand city of wide boulevardes and imposing buildings, yet narrow alleyways and tiny shops are never far away. Now to see what the rest of China has to offer!