During our time on this trip we have caught all manner of transport, from a trishaw in Beijing to the Maglev in Shanghai. We've been on a hydrofoil on the Yangtze and a couple of sleeper trains across China. And many flights with more to come.
Today was special for the number of different modes of transport we caught in a single day, the day that we left China proper and returned to Hong Kong.
1. Taxi
The taxi drivers wanted RMB100 for the trip from the hotel to Guilin's airport and refused to use the meter. We knew from experience that this was a blatant rip-off. The concierge haggled down to RMB80 and we took it, with time running out. It's a pity to have to suffer cheating on your final day in a country. We met many honest, decent Chinese people, but also quite a few out to rip us off.
2. Aircraft
A China Southern flight took us from Guilin to Shenzhen. Though pretty smooth, the seat pitch was the narrowest of the Chinese carriers and we were each only given a small bottle of water and face wipe. Perhaps this was due to the shortness of the flight - only 50 minutes. Unfortunately, the skies over Guilin were overcast and smoggy so we missed out on the spectacular views from the incoming flight.
3. Minibus
Our original intention was to do some shopping around the land border crossing area into Hong Kong, but when presented with the option of going directly to Hong Kong from the airport decided to take that easier option. We were packed into a minibus for the short ride to Shenzhen's ferry terminal.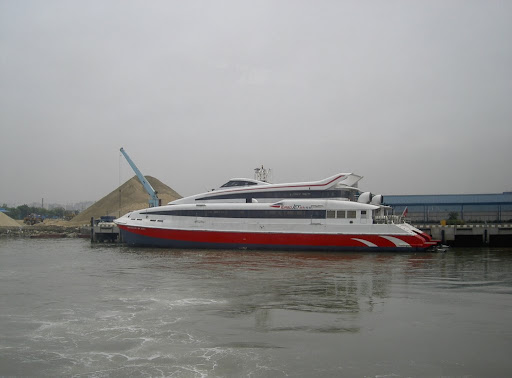 4. Catamaran
The TurboJET to Hong Kong was a comfortable, modern and fast catamaran that raced us through the placid Pearl Delta to Kowloon. We passed tiny, dingy fishing vessels, small container boats with their own cranes, bigger ships and even a drilling rig. The closer we approached Hong Kong, the more the pollution appeared to subside.
5. Walking
We lugged our two heavy backpacks and one day pack from the ferry terminal to Tsim Sha Tsui. They had definitely increased in weight since the start of our journey. The air in Hong Kong was warm and humid, fresher too compared with mainland China.
6. Mass Transit Railway (MTR)
Tsim Sha Tsui to Yau Ma Tei is only two stations by the underground, but any decrease in walking time was appreciated. The Octopus stored value cards make it so easy.
A quick walk to our hotel, the Dorsett Seaview, same as before, then out again for a lunch of noodles and wonton. Then back to the MTR for a ride to Central on Hong Kong Island.
There we purchased some dried scallops for B's mother and wandered around Hollywood Street, admiring antiques and jade far out of our price range.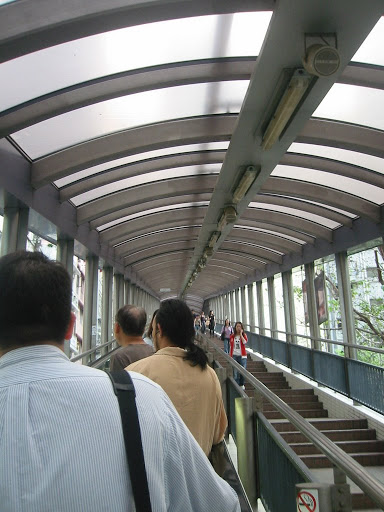 7. Escalator
The longest pedestrian escalator in the world is actually a series of smaller escalators with breaks allowing people to join and depart on the ride up to the "Mid-levels". It went on and on and on, but was pretty interesting for the views of the shops and residential towers alongside.
8. Walking again
From the top of the escalator at conduit road we walked East and downhill through part of the botanical and zoological gardens. You could tell that it was a very expensive area, green and pleasant with quite a few expatriates.
9. Cable tram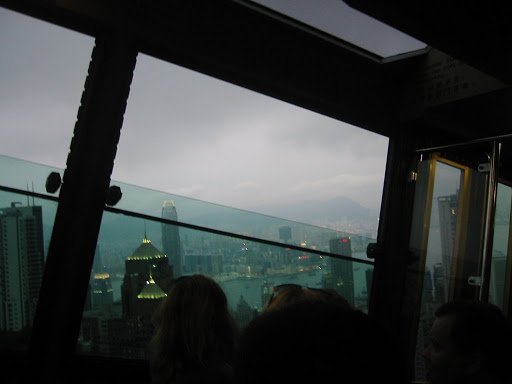 The cable drawn tram ride to the Peak is quite an adventure, rising very steeply at 27 degrees at some points. How anyone can ride standing I don't know. The evening views from the Peak Lookout Tower looking out over Hong Kong Island's cityscape were spectacular, but cloud was just starting to obscure them from the top. It was as if a smoke machine was blown over the top of the tower, the lower levels were beneath the cloud.
The ride down again was even scarier, with all passengers seated backwards. B felt sick afterwards.
10. MTR again
A quick metro ride between Central and Tsim Sha Tsui got us there in time to watch the city skyline lightshow from the Promenade. Green laser beams and white spotlights shot out from the tops of the buildings many of which had colourful light displays on their structures.
It was quite as spectacular as I had hoped, but still quite beautiful.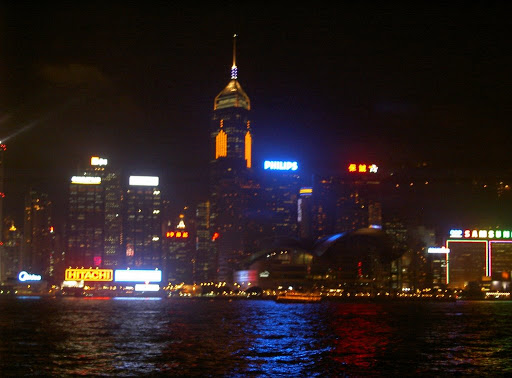 11. Walking yet again
We walked back along Nathan Road towards our hotel. We chose to return here for the surrounding night markets and local restaurants. Tonight we decided to have a change from Chinese food and ended up in a restaurant where the food was prepared and served factory style. Edible, but not great.
It
is
a relief to be back in Hong Kong after spending two weeks in mainland China. Don't get me wrong, there were plenty of wonderful sights we saw and great people we met in China. There were also many negatives. It's a tiring place to travel in and I think we just need some time now to relax in a modern locations where we can catch public transport to the sights and not need to rely on others to drive us around and to speak the language for us. I'm pretty certain that we will return to China again one day, but not for a little while at least.
Tomorrow we may add to our tally of transportation types with a cable car ride up to the Po Lin Monastery on Lantau Island.